With her expressive way of singing and a voice that is both ethereal and powerful Ulrika Bodén is regarded as one of Sweden's most foremost folk singers.
Ulrikas latest album Te Berga Blå – To the Blue Mountains, has been highly praised, a tribute to the pastoral music and its tradition bearers – the women. The luxurious festival- and concert line-up to this repertoire is the favorite musicians of the trio Ahlberg, Ek & Roswall, also featuring on the album.
With their dazzling ensemble playing and imaginative arrangements Ahlberg, Ek & Roswall have established themselves as one of the most exciting acts on the folk music scene. Their music is characterized by both pop and baroque influences, a great tonal range and an absolutely irresistible swing.
Group of the Year at the Folk and World Music Awards 2016.
Together, Ulrika Bodén and Ahlberg, Ek & Roswall give an energetic concert with beautiful songs, intense tunes and powerful herding calls.
Ulrika Bodén: vocals, dulcimer, härjedalspipa
Emma Ahlberg Ek: five stringed violin
Daniel Ek: harp guitar
Niklas Roswall: nyckelharpa and moraharpa
Press photos:
(photo credit not optional)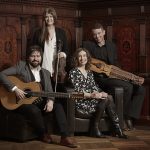 Poster PDF: