Now we have come out of the studio and it feels very good!
The name of the album will be "For Dancing" and it will be released in April.
During the spring we will also visit Ireland for the Baltimore Fiddle Fair, play a school tour in Västernorrland, Kallstämman in Järvsö,  make a release tour with the new CD and some other pleasures.
Hope to see you!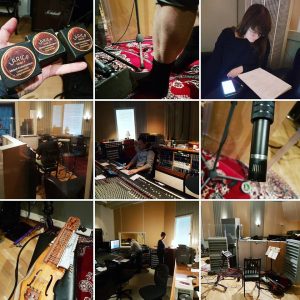 1 February Senioruniversitetet, Sundsvall
10 March workshop & consert, Kallstämman, Järvsö
19-23 March school tour Scenkonst Musik Västernorrland
6 April Linköpings Folkmusikfestival, Norrköping
7 April Folk- & Världsmusikgalan, Norrköping
12 April Västanå Välkomnar, Sunne
13 April Folkmusikkaféet Allégården, Göteborg
14 April Felan – föreningen för folkmusik och dans i Örebro
20 April FaluFolk, Falun
21 April Värstaborg, Sundsvall
3 May Gävle konserthus
4 May Bollnäs kulturhus
5 May Kafé Station, Umeå
11-13 May Baltimore Fiddle Fair, Irland
14 May Crescent Art Centre, Belfast, Irland
9 June Ransätersstämman, Ransäter